Content Management System (CMS)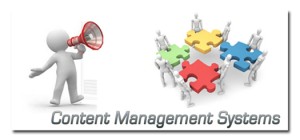 A content management system (CMS) is an easy way for one or a large number of people to maintain/edit/add content to a website without changing the overall look and feel using a WYSIWYG (What You See Is What You Get) editor.
There are several different ways to create a website. Back in 1996 – 2007, most created their websites using HTML & CSS, Microsoft FrontPage or even Flash.
Today, content management system (CMS) has started to dominate the way we create websites.  This is because it's:
Cheaper – Most of them are free to use (opensource)
Faster – You can build a site within 30 minutes
Easier – You don't need much coding or programming skills
While there are several CMSs to choose from, the three most popular are:
WordPress (Best pick for beginners, works well for small to medium sized websites & blogs)
Joomla (Good for E-commerce type of sites, but require at least some level of technical coding)
Drupal (The hardest, but also the most powerful CMS)
Keep reading as we describe the differences…
WordPress is the world's most popular content management system. It started out as a platform exclusively for blogging but has grown and advanced significantly over the years. Today, over 40% of sites using CMS's are using WordPress. To show its popularity, over 60 million websites are using WordPress and those numbers keep growing.  It offers many advantages in creating a website and/or a blog, including:
Easy Installation – Knight Web Services offers automatic installation of WordPress sites, which means you can have a new site up and running in well under five minutes.
Customizable – WordPress has significantly more plug-ins, themes and other customizations available for it than any other CMS. This is largely because it is the most popular, so the designers of these items almost always create them for WordPress.
Commerce Sites – if you are familiar with OSCommerce, WooCommerce is a free plugin for WordPress with the same look and feel.
Free – WordPress is free to install and use for anyone who wants it. There are thousands of free plug-ins and themes available to choose from. In addition, there are also paid premium themes and plug-ins, which some people will want to use, but they are not required, especially not for beginners.
Community Support – With millions of people using WordPress, there are a lot of people out there to help you through any problems. Several websites are set up by users offering free support to other WordPress website owners.
Joomla is often thought of as the compromise between WordPress and Drupal. It is a powerful content management system. It doesn't require the same level of technical experience to run as Drupal, but it still offers many of the extra features. Like Drupal and WordPress, Joomla does have a lot of plug-ins and themes available to choose from, so you can customize your site to look and function in any way you desire. Other reasons people choose Joomla include:
Easy to Install – Knight Web Services offers automatic installation of Joomla sites, which means you can have a new site up and running in well under five minutes.
Social Networking – This is perhaps the biggest benefit of Joomla. Of the three, Joomla makes it the easiest to create social networks. Social networks can be a powerful asset for many sites, and with Joomla, you can have one up and running extremely quickly and easily.
Commerce Sites – Setting up an online store is simple with Joomla.
Not too Technical – Joomla has, in many people's opinion, found that middle ground between the ease of managing a WordPress website, and the power of a Drupal site.
Help Portal – Joomla offers a great help portal for asking questions and getting technical support. It isn't going to be as fast or extensive as the community based support pages of WordPress, but it is quicker (and cheaper) than technical support most people get for Drupal.
Many Joomla users love Joomla because it is powerful, yet easy to use. Joomla has done an excellent job at combining the benefits of WordPress and Drupal, and adding in some great features of its own. It has been growing in popularity over the past several years, and it is likely to continue to do so. Joomla seems to have found a big market of people who are ready for something a little more powerful than WordPress, but easier to manage than Drupal.
Drupal is the second most popular content management system available today. It is a fully open source program, which many people prefer, especially those who are more technically minded.
The Drupal platform is extremely powerful, and is less resource intensive than that of WordPress. Drupal can be set up for anything from a simple blog to a content portal used by large corporations. Some of the most significant benefits to Drupal include the following:
Technically Advanced – Drupal is the most technically advanced of these three content management systems.
Improved Performance – Drupal pages typically load more quickly, and have faster response times than those made with WordPress or Joomla. Of course, as you add in plug-ins and make other changes, this can quickly change.
Customizable – Drupal is easy to customize with many different plug-ins, themes and other configurable options. For those with sufficient programming knowledge, it is possible to edit even the root files of the program, making it the most flexible of the three content management systems.
Free – You can download the Drupal software for free, and install it on Knight Web Service's server.
Drupal is the most powerful content management system out of the box, but with that power comes some additional difficulties for the website owner.
Having at least basic knowledge of HTML, PHP and other common web programming languages is highly recommended for anyone considering using Drupal. You don't need to be an expert, but being able to troubleshoot error messages, and identify problems with coding will be a significant benefit.
If your website grows beyond a basic blog or small business page, you'll likely require some technical support to run it properly. If you don't have those skills yourself, that may mean you need to hire someone, or outsource the support of your page. Another potential concern is that since Drupal requires some in depth knowledge of the programming and technology behind it, finding support can be more difficult. If you run into a problem, you may have to pay someone to log on and help you fix it.
Fans of each of these three content management systems will argue fiercely that the one they prefer is the best option out there.
The fact is, each situation will require something different, and taking the time to look at all your options is the best way to go. For those looking to set up a small, personal blog, or a website for their small to medium size business, WordPress is likely the way to go.
If you're setting up a site which you believe will grow rapidly from day one, and require extensive features for the users, Drupal may be more in line with what you need. Joomla is great for those somewhere in the middle, or anyone looking to add social networking to their pages.
It isn't an easy choice to make, but if you take the time to look at your specific needs, and have an honest look at your own technical abilities (or your willingness to pay for technical support), you can make the right choice.
 Is it possible to migrate from one to another?
If you feel you're on the wrong content management system for your specific needs, it is possible to migrate from one to another. In most cases, this can be done fairly easily without too much hassle. Of course, whenever making major changes to a website like switching CMS's, it is important to make sure you have the time and expertise available to help you through any problems you happen to run into.
We, at Knight Web Services like WordPress…
Our own site is built on WordPress. We selected this CMS to show it versatility. We really like the fact that it's so easy to add new content, it has security updates, there are tons of free plugins and layouts to choose from and we can easily change and tweak basically anything within it.
Covert your existing site