You NEED a SSL!  No matter the size of your site!
Haven't realized the importance of a SSL yet?  You will, be ahead of your competition.
What is it?  It's the padlock on the URL bar that assures your visitors your site is secure!

Savvy buyers are reluctant to enter their information & buy from sites that are not SSL protected.  Protecting your users' data with SSL is good business practice no matter what type of website you have.
Below, we're going to break it down for you so you can make an informed decision on how to secure your website for your visitors.
While installing an SSL certificate does take a little time, it's not super complex. The hour or so you spend getting it set up correctly is nothing compared to the trust you can develop with visitors to your website when you use SSL.
Why Use SSL on Your Website?
Why should you have SSL on ALL pages of your websites? Something as important as your client's information security is worth reviewing.
Encryption– You should use SSL because it encrypts data going to and from your web server. Visitors to a page protected by SSL will know their information is not readable by just anyone.
Authentication–  In addition to encrypting data, a correctly configured SSL certificate will verify the identity of your site to your visitors and reassure them that data is coming from *your* server – not from some man in the middle who's intercepted your traffic.
Trust–  Visitors will have increased trust in your website because of the encryption and authentication.  It is a must have for ecommerce websites.
Google– There is little point in having a website that Google doesn't rank.  Google Ranking Boost by having a SSL is real.  Google believes in making the web more secure and are willing to reward Webmasters who take the time to correctly install an SSL certificate on their website.
With the release of Google Chrome 56 web browser, Google will label websites without a properly installed digital certificate as "Not Secure".
Initially, only websites that accept passwords or credit information over HTTP will receive the warning label to the left of the address bar.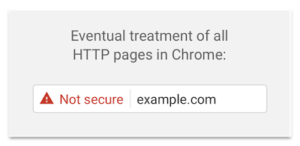 The changes won't stop there.
With the resounding battle cry of "HTTPS everywhere!" Google has been urging increased security on the net since June of 2014. "Eventually," said Google in their September 2016 blog post, "we plan to label all HTTP pages as non-secure, and change the HTTP security indicator to the red triangle that we use for broken HTTPS."

Don't get caught on the wrong end of this change, utilize HTTPS with a SSL Certificate from Knight Web Services!
YES, there are quite a few reasons you should be using an SSL certificate on your website.
BUY and install yourself or we would be happy to install for you for only $30.00
It's the best, low cost investment to make in your website.
If you're looking for simple encryption for your site, the Comodo Essential SSL certificate is one of the most affordable options on the market. This certificate can be issued in a matter of minutes with the strongest encryption available. All domains protected by this certificate will display "https" in the URL, along with a padlock icon and Site Seal. Starting at $34.50/year.
In the event you require a wildcard certificate to cover both www and non-www along with their subdomains i.e. knightwebservices.com, mail.knightwebservices.com, admin.knightwebservices.com, retail.knightwebservices.com, etc., our wildcard SSL certificate is for you starting at just $133.00/year.
Thawte SSL Web Server certificates will bring a new level of trust to your website. Since these are Organization Validated, or OV, certificates, your online customers will be able to see that your business was verified by one of the most trusted names in internet security. As one of the more premium brands in the SSL industry, Thawte is used in more than 240 countries around the world, so you can rest assured that these certificates will be recognized by customers across the globe. Any business that wants to make their website more reputable should consider these certificates, but they are especially recommended to medium sized ecommerce sites starting at just $139.50/year.

For added security, Knight Web Services also offer Extended Validation or EV SSL certificates. Add the green bar to your SSL by ordering an EV SSL certificate today starting at  $210.00/year. Quite simply, your customer's online purchasing confidence is our highest priority. With Extended Validation SSL certificates, customers will now be able to easily distinguish between DV (Domain validated, instant issue) SSL certificates and Extended Validation SSL certificates. As shown below, IE7, Mozilla Firefox, and other browsers incorporate a new feature which turns a browser address bar green if a valid EV SSL certificate is present. Now even non tech-savvy web surfers will easily be able to assess which sites they can trust.